Watermark Community Church, a nondenominational evangelical church founded by Senior Pastor Todd Wagner in 1999, has long embraced the latest audio-visual technologies to help deliver services to a network of campuses across the Dallas-Fort Worth metroplex. To improve the audio quality of the message being delivered, not only in-person but also online, the church recently engaged commercial AV design and integration company Nexos to install three Solid State Logic Live consoles — two L200s and an L350 — and to implement a new Dante network at its main Dallas campus.
The recent upgrade, completed shortly before the coronavirus lockdown went into effect, included the installation of a 24-fader SSL Live L350 at front-of-house and a 36-fader L200 at the monitor position in the main Dallas campus' 4,000-seat auditorium. The third SSL console, another 36-fader L200, is located in the facility's broadcast and video control room. Worship services typically include in-house and visiting praise bands and musicians and are distributed to satellite campuses in Fort Worth, Plano, Frisco and downtown Dallas, where the pastor's teachings are integrated into the respective live worship services at those facilities and are also streamed online.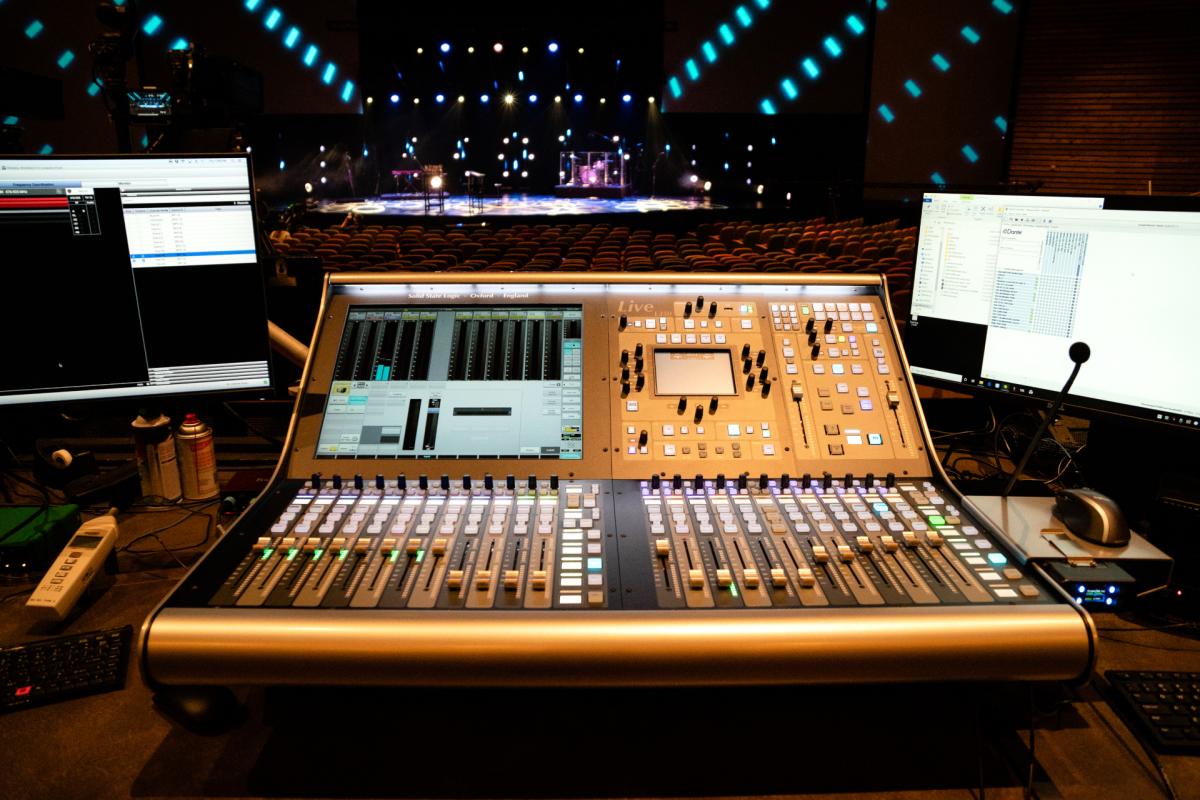 Travis Brockway, founder of Nexos, which is headquartered in Red Oak, Texas, just south of Dallas, has a long relationship with Watermark dating back to when he was an independent contractor mixing front-of-house at the Dallas campus and advising on audio technologies and upgrades. "Then I started my company, Nexos, and after a few years of operation we started winning Watermark's work," says Brockway. The company, which has six full-time staff, boasts a string of projects that includes corporate auditoriums for Walmart in Arkansas, Salina Fieldhouse in Kansas, which houses six multi-use sports courts, and high school football stadiums and churches throughout the region.
At Watermark's Dallas campus, says Brockway, "We have 112 lines scattered around the stage coming into the stage right rack with three SSL SB32.24 and one SB16.12 stageboxes with dual Dante outputs. Rather than using mic splitters and a patchbay we installed the 112 SSL mic pres, so that it could all be soft patched via Dante. When this system came online, we also implemented a new Dante network across the Dallas campus. It was a big switch. We replaced all the previous DSP and its Dante functionality throughout the whole facility. Everywhere there's an audio console, it plugs in via Dante. So the Children's Ministry's consoles and everywhere there's a sound system is all Dante capable."
The front-of-house L350 desk, positioned centrally in the auditorium just behind the lower seating bowl, directly drives the main left and right L-Acoustics PA system along with the flown and floor subs. The newly installed DSP system handles optimization of and distribution to the multiple L-Acoustics balcony delay arrays, outfill, and front fills covering the fan-shaped seating area, says Brockway.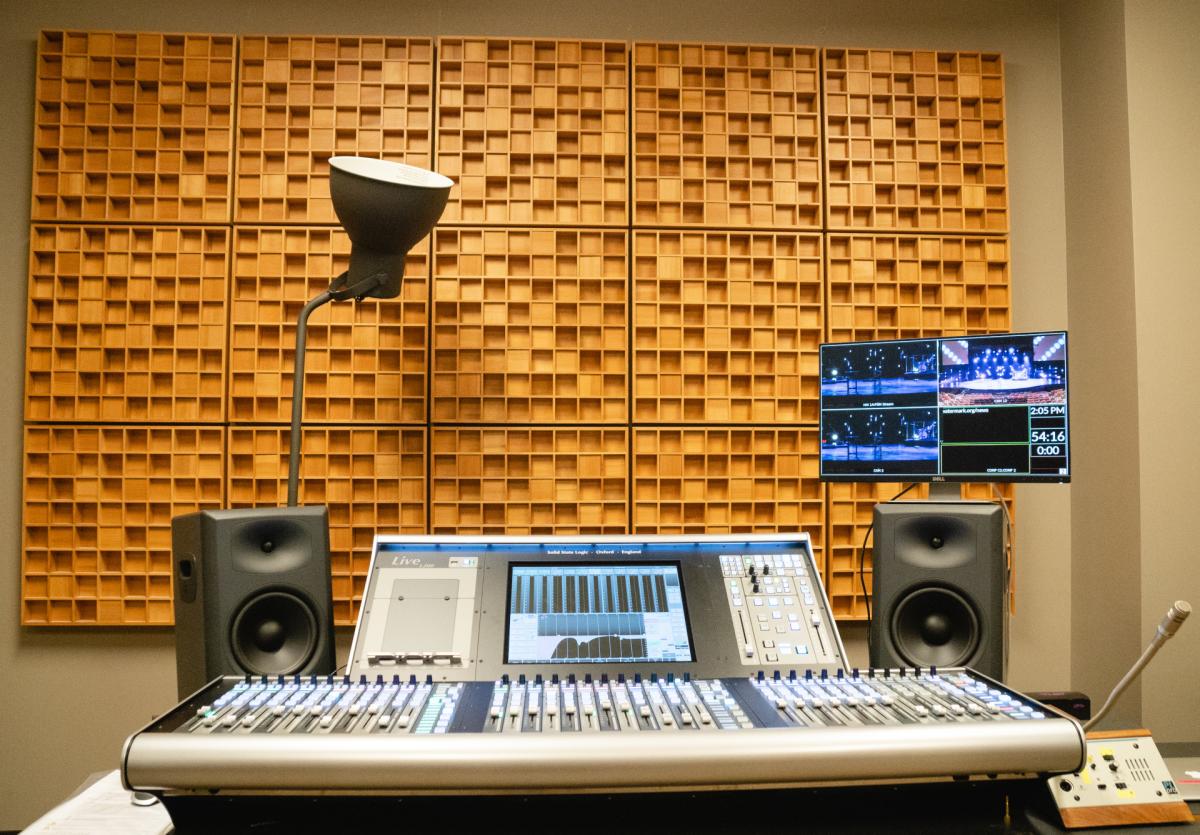 "The main service also gets distributed around to what they call the Town Center, the coffee shop and gathering space in the middle, and a couple of overflow rooms" from the L350, he says. "There's also the Chapel and the Loft, and all the children's spaces; they're all capable of getting an input from the main auditorium — and vice versa." Office towers next door to the main Dallas worship center host Watermark's mid-week and children's and student services.
Selected services are recorded: "We were using Waves' Tracks Live, which is now end-of-life, so they're contemplating another solution," he says. The multitrack recordings are controlled from the front-of-house L350. "We have DAW control functionality hooked up on the console. We can start and stop transport. But all the inputs are available over Dante now, so we could pick them off at any location."
At the L200 monitor console on stage, Brockway continues, "We have 32 analog outputs that can drive wedges or rental in-ear sets or whatever comes in. We're also using an Allen & Heath ME personal mixing system over Dante."
Depending on the skill level of the operator at the L200 console in the video control room upstairs, he says, "They are either taking stems from the L350 front-of-house console as insert returns on the broadcast console — they can mix drums and bass and guitars as stems — or they can take the SSL SB gain compensated Dante split and have individual control of their own mix. We have a couple of sends, one to the satellite campuses and one to the web stream. We're also talking about making other compensated mixes for other purposes."
The difference between the two output streams, he says, "Is that at the campuses they don't like ambient mics, because it makes the pastor sound odd" when heard in the various different acoustic environments of the satellite auditoriums. "But in the web stream you want that ambience."
The pastor speaks on a DPA d:fine headset that, with the previously installed front-of-house console, would allow only about 65 dB of gain before feedback, Brockway reports. "When we went to the SSL, we could get 80 dB of gain. And with less EQ."
Indeed, it was the audio performance that convinced Watermark's team that the SSL Live console was the right choice. Selection of the console was a multi-step, competitive process, Brockway reports. Initially, Watermark's audio director suggested a brand of console that ticked all the technical specification boxes. "My recommendation was that we should listen to some other choices, so we got demos of a couple of consoles. SSL was one of them, and it made the first cut."
In the second round, he says, "We did a shootout between the SSL Live and one other console. It was very interesting. The sonic performance of the SSL console is pretty spectacular. Without any processing, it sounded wider, like the speakers had all moved 10 feet apart. It's not out of phase so I can't explain it, but it's quite obvious. The sound stage is wider and deeper than what we had before, and things in the center of the image are bang in the center and right in your face. So there was a clear winner: SSL."