Five audio control rooms each equipped with two SSL System T surfaces are utilized including a S500 and an S300 —both supporting Dolby Atmos, 5.1 and other formats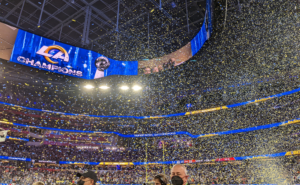 The musical segments during the pre-game and halftime shows at this year's Super Bowl, which aired on NBC and Telemundo, were mixed on a Solid State Logic System T networked broadcast production console installed at the NFL's new West Coast headquarters, rather than the usual dedicated remote truck — a first in the history of the championship game. Tom Holmes, A1 for the broadcast music segments at Super Bowl LVI, was responsible for mixing not only the Halftime Show, featuring hip-hop headliners Dr. Dre, Snoop Dogg, Eminem, Mary J. Blige and Kendrick Lamar, but also country music artist Mickey Guyton's performance of the "Star Spangled Banner" and R&B artist Jhené Aiko's rendition of "America the Beautiful."
Holmes mixed the music from one of the five audio control rooms at NFL Los Angeles, a new 450,000-square-foot building that serves as the home for NFL Network, NFL.com, NFL RedZone, the NFL app and other departments involved in the league's media and business operations. Each of the five audio control rooms is equipped with two SSL System T surfaces, an S500 and an S300, and supports Dolby Atmos, 5.1 and other formats. The building is connected over fiber to SoFi Stadium, where the Los Angeles Rams battled the Cincinnati Bengals for the national title, which are located adjacent to each other at the 298-acre Hollywood Park mixed-use development in Inglewood.
Inaugural Super Bowl appearance for System T
"The last time I was on an SSL has to be over 10 years ago," says Holmes, a New York-based A1 whose resumé includes years behind the broadcast production audio console for the annual Grammy Awards telecast. "It was my first time with the System T," he says, and his second time working the Super Bowl.
Having has an opportunity to work with the System T for a week, he reports, "I found the console sounded really good. It certainly is laid out well and has nice features built into it, like bus compression and effects. The compression was very nice and smooth. Same with the EQ — it has all the features you need out of an EQ. The parametrics can be as tight or as wide as you want. And it does seem very precise. A high-pass filter rolled off at 150 Hz does exactly what it advertises. There's no guessing that the GUI doesn't match the sonics that are coming out of it. And the response time was fast."
As for what was going on under the hood, he adds, "The file management was also pretty straight-ahead and fast. Setting up a scene and getting it to recall what you wanted — or didn't want — was all very straightforward."
Fully networked and redundant system
In all, Holmes had access to 256 bi-directional lines between his control room and ATK Audiotek, the event's live sound production provider, in the stadium. "There were also 192 lines back and forth between a router front end they allowed us access to for transmission and video tape records," he says. "We had a total of 16 RF microphones and 12 crowd mics. Plus, I had a 5.1 stem that we got from NBC that we got to use for our halftime show that was coming from the stadium." There was also a failsafe backup path, he adds: "If my room caught fire, they could take a front-of-house feed from the stadium and send that to the router."
In another first for the Super Bowl's high-profile music segments, Pro Tools mixer Pablo Munguia, another Grammy show veteran, was also in the audio control room with Holmes, rather than in a separate mobile unit, as is more typical. "We had 192 lines back and forth between me and the Pro Tools rig in the booth. The studios are nice and spacious and there was lots of room for Pablo. It was nice having him right there. I didn't have to get on the intercom, I could just turn around and ask him to play it again," Holmes says.
During the almost weeklong setup and rehearsal period Holmes was called upon to generate various signals for the comms system. "The SSL has plug-in modules for downmixing, which are convenient," he reports. "They could downmix from 5.1 to stereo, from stereo to mono" and other formats, he says. Ideally, he would have liked more time to investigate System T's potential: "I was focused on the stuff I needed, but there was a lot of unexplored territory that looked as though it would be interesting to dig into."