System comprises S500 mixing console and TE2 Tempest Engine to support NASA's Emmy Award-winning NASA TV operations, which covers all space missions, and features a continuous live stream from the International Space Station
Houston, Texas —A Solid State Logic System T broadcast audio production platform has been installed at NASA's Johnson Space Center in Houston, Texas, where it supports the Communications and Public Affairs Office's two-time Emmy Award™ -winning NASA Television operations. The new System T S500 large-format modular mixing console and TE2 Tempest Engine provide routing, mixing and processing of all broadcast audio sources for NASA TV's multi-platform programming, which includes coverage of all human and uncrewed space missions as well as a continuous live stream from the International Space Station.
The 80-fader System T S500 console is installed in the Audio Control Room (ACR) at the Communications and Public Affairs Office (PAO), which is linked to the Mission Control Center, a location that has served as the nerve center of American human spaceflight since June 1965. The console is also used for TV programming for outside media as well as third parties such as Boeing and SpaceX, whose missions launch from NASA's Kennedy Space Center in Florida.
LD Systems in Houston, which provides audio, video and lighting solutions for live event production, sales, integration and service support, supplied and integrated NASA's new System T. In addition to the S500 console, the system includes three SSL Network I/O D64 AES-to-Dante conversion boxes, eight A32 analogue line I/O boxes and two SB 32.24 mic/line Stageboxes.
The new SSL S500 console not only replaced an older mixing desk but has effectively supplanted the previous routing workflow by becoming the audio nexus for all live television productions. Rather than relying on a dedicated router, all audio sources and signals now pass through the desk and are routed via the System T software.
The System T console is operational 24/7 and has not been powered down since it was commissioned in February 2023. The console stays in a 24/7/365 uptime posture, as a mix of Mission Audio is created by and broadcasted from the console to public streaming platforms. The console is also used to create the audio program for press conferences, live interviews between a ground-based participant and an orbiting crew member, and for coverage of dynamic spaceflight activities such as spacewalks and launches of crewed missions to the ISS.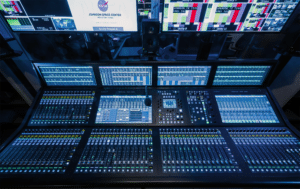 System T's scene automation capabilities enable each audio operator to tailor the workflow according to individual preference, in terms of console layout and the way that sources are mapped to the S500 surface, for example. Since NASA TV programming and associated press conferences can be dynamic, this functionality allows an audio engineer to easily build a new mix and, as one example, accommodate the introduction of a remote subject matter expert.
System T's processing is widely employed to reduce noise, especially from the locations that utilize analog audio connections over longline copper. The console's noise mitigating tools include high- and low-pass filtering, and System T also offers an Automix feature that can help deliver clean audio in noisy environments.NASA employs System T's noise gate feature to duck one feed in favor of another, sometimes in stacked ducking scenarios.
"NASA's audio production demands have grown exponentially from the days of the space shuttle," comments Phil Wagner, Solid State Logic's Los Angeles-based Senior Vice President. "The Artemis program's upcoming manned moon flights and eventual missions to Mars as well as commercial space ventures such as SpaceX Dragon and Boeing Starliner will all introduce even more complexity to the broadcast audio. SSL's System T platform will enable the ACR to adapt and grow according to NASA TV's evolving production requirements."
Solid State Logic is the world's leading manufacturer of analogue and digital audio consoles and provider of creative tools for music, broadcast, live and post production professionals. For more information about our award-winning products, please visit: www.solidstatelogic.com.